MR. CROOK CAN'T CATCH A BREAK!
Oft-neglected but never forgotten, Mr. Crook is one of those characters that you hear more about than you actually see. As anyone who has read Chapter 1 knows, Mr. Crook died 2 weeks before Spy Gal came to Valhalla. But, until now, we've never known how he died.
To get to know the guy just a little bit better, check out my very favorite appearance of his ever.
WELCOME TO SUPERFOGEYS ORIGINS, MICHAEL ODOM!
Brand new SFO story, brand new artist! The talented Michael Odom is on loan to us from the new webcomic, Holiday Wars. Writer Scott King, a regular commenter 'round these parts, got Michael and I together and I immediately put Michael through his paces. Any artist will tell you that drawing the same thing over and over again is hard, tedious work, but for this story Michael stepped up. I hope you enjoy his work as much as I do. If you don't–blame the colorist! (That would be me.)
Be sure and check out he great work Michael and Scott are doing over at Holiday Wars!
NOW TAKING SUBMISSIONS FOR THE 2ND ANNUAL GUEST STRIPPIN' XMAS
In case you missed it on Thursday, I'm now taking submissions for guest strips to fill in during my Christmas Vacation. Deadline, specs, and full details are here! Are you in?
NEW DONATION DESKTOP WALLPAPER!
Have Tangerine kicking back on your desktop with the new wallpaper featuring art by Eldon Cowgur! Make your donation of any amount right here.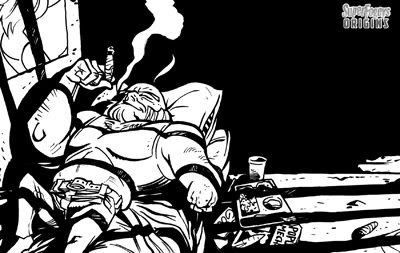 See you on Thursday with SuperFogeys 285!