SUPERFOGEYS VOLUME ONE UPDATE
I'm happy to report that the first SuperFogey Trade Paperback–Volume One collecting Chapters 1-5 is off to the printers and they have confirmed that it will be done in time for its debut at the Baltimore Comic-con on October 10th.  I'll be there personally to sell and sign copies.
I'm so glad it all worked out.  I admit I was a little worried we were cutting it a little too close. One of the last pieces of the puzzle fell into place late last week when the write of the foreword submitted his excellent introduction and summation of just what SF is all about.  I'm anxious to announce who he is (I call him the man on top of the mountain of excellence that is comic book culture), but I think we can wait on that a bit.  I want to give him a chance to announce it on his own site.
For now, I tease you with a couple more sample pages from the guts of the book, this time from the "Untold Tales of the SuperFogeys" section: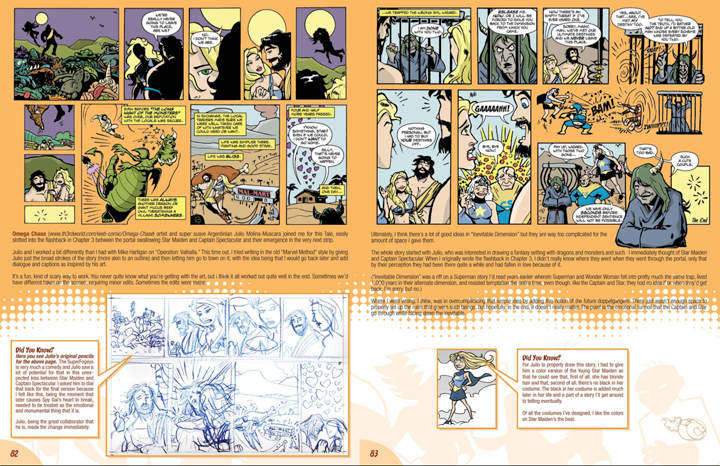 There's a 101 more pages just like it.  There's still time to order your copy, in either Artist or the Regular editions.
UPDATE! – DIGGING INTO THE PAST
A couple of past scenes in the regular strip might shed some light on what you see above.  For those interested, you might want to check out this, this and this.
YOU VOTED FOR IT AND NOW IT'S HERE – JACKSON FERRELL'S REVIEW OF SUPERFOGEYS CHAPTERS 4-6!
Jackson took on a lot at once with this review, but I thought his assessment was both fair and excellent. Can't say I disagree with him too much on any point.  See what you think and drop him a comment if you're so inclined right here.
SUPERFOGEYS #3 NOW AVAILABLE IN THE iTUNES APP STORE
For those of you wanting the slimmed down, portable SuperFogeys experience, Chapter 3 is now available in the iTunes App store for iPhone/iPod Touch users. Only 99 cents!
See you on Thursday with SuperFogeys 226, featuring Dr. Rocket's first appearance in Chapter 7!