SUPERFOGEYS VOL. 1 – THE TRADE PAPERBACK – NOW AVAILABLE FOR PRE-ORDER!!!
I have been waiting so, so long for this. The SuperFogeys has always been meant to be read as a whole and this new trade paperback represents the best possible reading experience. I'm pulling out all the stops for this.  First, take a look at this thing: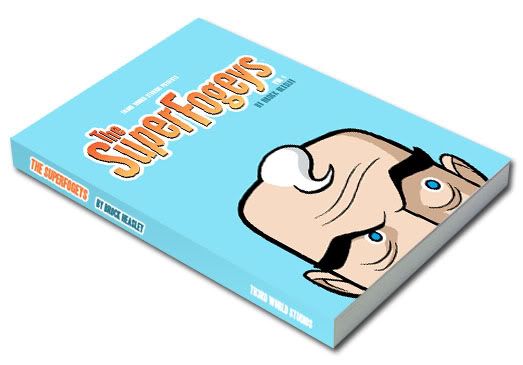 (Design by Th3rd World Publisher Michael DeVito)
Simple and elegant, I love the directness of that cover. You can easily imagine what the next volumes will look like and how great they'll look together.  Here's what you'll be getting inside:
• The first four chapters of the SuperFogeys NEWLY EDITED by Brock Heasley for a smoother reading experience:Ch.1, "Insane Romance From Hell" Ch.2, "Bingo Night" Ch.3 "The Techno Shuffle" Ch.4 "Dictator Tot's Revenge"
• An updated, running COMMENTARY on each and every page of the book below the strips and stories.  With some surprises!
• All of the previously published BONUS STORIES: "Operation: Valhalla" "Captain Spectacular and Star Maiden in the Inevitable Dimension" "Cellmates"
• The PREVIOUSLY UNPUBLISHED bonus story "The Secret Origin of the Space Pig"
• FOREWORD written by [TOP SECRET!] and AFTERWORD written by Th3rd World Head Honchos
• DESIGNED by Michael DeVito and Jon Conkling (The same team that designed the sold-out "Stuff of Legend")
• SKETCHES, UNSEEN ART, and MORE!
Price? Glad you asked. $19.99 plus shipping, $24.99 plus shipping for the Artist Edition that comes with an original sketch card. This is going to be a slick, slick book.
And please, do spread the word!  I know a lot of people have been waiting for this and, to be blunt, it would be nice to break even with SF! This is the best way to support the comic, through the purchase of this trade.  I want desperately to keep doing SuperFogeys and I hope you can help me do that and get a super sweet book in the process.
Order the Artist Edition here!
Order the Regular Edition here!
WHAT HAPPENS TO SUPERFOGEYS COLLECTIONS #1-3?
SuperFogeys Collections #1-3 will no longer be sold once we run out of stock. The trade replaces them.
CAN YOU GET YOUR SUPERFOGEYS TRADE SIGNED?
Yes, you can. Make a note of it when you make your purchase in the comments section and we will charge a bit of extra shipping in order to send the books out to me first for signing. (Books are shipped from Maryland. I live in California.)
CAN YOU GET A CERTAIN CHARACTER ON THE SKETCH CARD?
Yes, you can. Again, in the customer comments just name the character you want on the card and that's the one you get. If you don't specify, it will be randomly selected for you.
PRE-ORDER. GREAT. BUT WHEN WILL THE BOOK SHIP?
In plenty of time for Christmas, that's when!  Look for the books to ship in early October. I plan on debuting them at the Baltimore Comic-Con right around that time, so no long waits this time!
I WANNA PRE-ORDER NOW! WHAT WERE THOSE LINKS AGAIN?
Artist Edition! Regular Edition!
SWIFTY MAKES AN APPEARANCE IN NORM FEUTI'S "RETAIL!"
Retail is a nationally syndicated comic strip by fellow Tall Tale Features member Norm Feuti.  While Norm's Gill is currenly on hiatus, you can still read Retail online and in your local paper (if your local paper has class). This past Sunday, Norm debuted a strip that features quite a few familiar faces, including our very own Swifty.  Check it out!
NEXT WEEK:
I hope to finally file my San Diego Comic-Con report with pics and vids and stuff. On Tuesday, join us for another installment of Tangerine's origin with art by Eldon Cowgur as Tangerine meets…Master Masticate!
Then, on Thursday, be back here for either Bubbles of Light 5 or more happy time with Jerry's family.  Oddly enough, I haven't decided yet.