UPDATE! THE SPY GAL FAN ART YOU HAVE TO SEE!
This is just came across my inbox. Inspired by your comments on today's Spy Gal page, SuperFan Gwen Patton (the creative force behind Jenny Everywhere's Infinite: Quark Time) came up with this fan art featuring Spy Gal eating fried chicken. Gwen calls this a new meme. Heaven help us if she's right!
I'm not even going to try to explain this, you'll just have to read the comments below.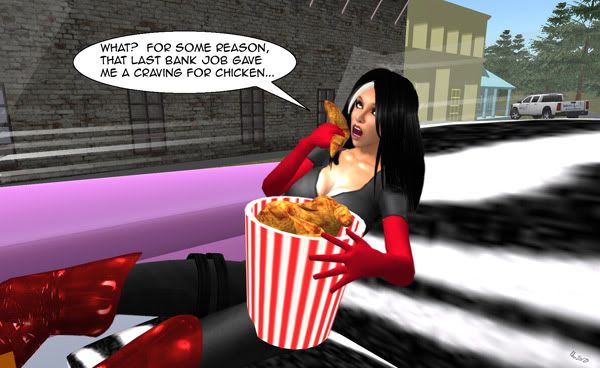 If you can't see the above image, click here!
ZOMBIE SPACE PIG!
Marc Lapierre, he of the occasional guest strip and SuperFogeys Origins story, worked up an amazing sketch over the weekend featuring some of the biggest luminaries of the webcomic character world, including Space Pig! The twist? They're all zombies!
Head on over to Marc's very fun and seasonally appropriate webomic Spooky Doofus to check it out!
IS THIS THE FIRST SPY GAL PAGE WITHOUT A NARRATIVE CAPTION? I THINK SO!
The story has finally reached a point where I felt like we could do away with the narrative captions for a spell. Hopefully, you're reading this having read the story from the beginning and know what a big deal this little conversation is. Lee's art just carries it here, really selling Spy Gal's inner conflict. Hope you dig it as much as I do.
I've been watching a lot of Battlestar Galactica lately. Lee, I think it's super cool you share the same first name with Apollo.
ALTERNATE SUPERFOGEYS FAN ART!
One of the things I'm most looking forward to with the new SF site is a dedicated section to fan art. I've collected A LOT of fan art over the years and I want to give it a real showcase.
Of course, there's nothing I love more than new fan art and those are always going to go to the top of the queue. Case in point: this piece by SuperFan Javiel Del Villar. Javier has taken a unique approach with his fan art by imagining an alternate reality in which Captain Spectacular and Dr. Rocket each received each other's powers from the Jorbons instead of the ones we're more familiar with. If you've read their origin, you know that this is something that could have easily happened. Enjoy!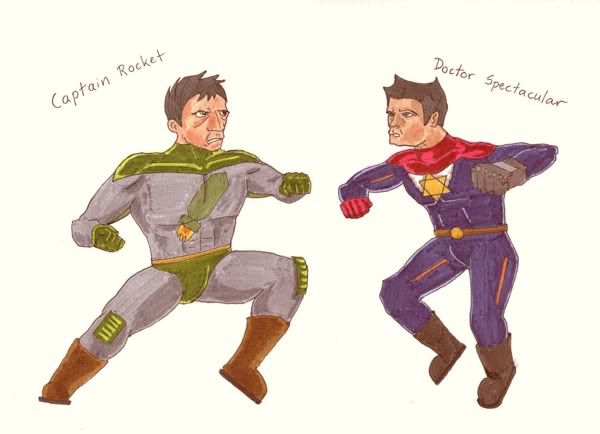 If you can't see the above image, click here!
NEW WALLPAPER!
There's a new, Tangerine-centric wallpaper available today to anyone who contributes to the SuperFogeys for any amount. I really like this one. It's great, impactful graphic that looks amazing on the desktop. See the Money Man button above for a preview (hopefully it's up by the time you see this!) or click here to donate!
See you on Thursday with the double-sized, SUPER SPECIAL SuperFogeys 282!