WELCOME TO SUPERFOGEYS ORIGINS, LEE CHEROLIS!
For you new readers (and there have been a lot of you lately), Back in May of this year I ran a contest to see choose who would draw the next, great origin–Spy Gal's. Over the course of several weeks, many wonderful artists submitted their own version of Spy Gal and Legend of Bill's David Reddick had the pleasure of picking from among them the eventual winner–Lee Cherolis!
See the announcement and Lee's winning entry here.
Working with Lee and David over the past several months (David did some character designs and art direction on the story) has been a pure pleasure. Lee, as you can from page one above, is a fantastic and dynamic artist and I could not be more pleased with how the Spy Gal origin is turning out.
I hope you all dig it as much as I do. This is one of the big ones–11 pages total! There's A LOT you don't know about Spy Gal…but you're about to find out.
IN DEVELOPMENT: JERRY'S ORIGIN!
With the shocking revelation of two weeks ago behind us, interest in Captain Spectacular's former and present sidekick, Jerry, is at all-time high. Today I'd like to announce that Jerry's origin is in development and I think I've found the perfect artist for it.
In fact, you probably remember him from the Spy Gal Art Contest…John Jett! We've been working hard for about a month now, crafting our tale and getting it just right so that it not only answers a bunch of questions, but also is entertaining and a good story in its own right.
Here's John's first sketch of a young Jerry. Consider this a "first pass" and not representative of John's final approach to Jerry.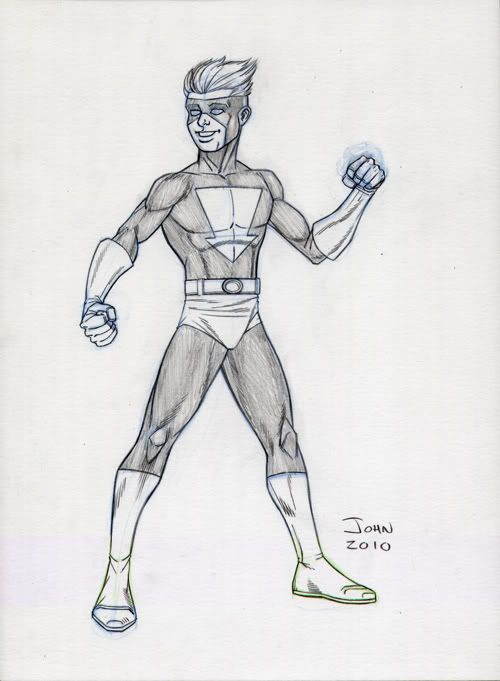 See much more of John's amazing artwork at his site!
MONSTERPLEX IS BACK AND THERE ARE NEW PAGES! HAVE YOU SEEN THEM?
From last week: as a thank you to all of you who voted and support the Zuda-winning/Zuda-booted webcomic, Monsterplex, the MP Team (Myself, artist David Schlotterback and colorist Michael DeVito) is posting all the pages we'd been working on that you never got a chance to see. Go to the Monsterplex Blog right now! Today is page 11!