BREAKING NEWS: MONSTERPLEX IS DEAD
Today, quite unexpectedly, Zuda comics, the webcomics arm of DC Comics, shut down, taking my February Competition-winning comic, Monsterplex with it.
Full explanation and details and thanks in this Monsterplex blog.
NEW GOO. BLUE GOO. GOOEY. GOOEY.
Forgive me, I've been a single parent to Cami this week and there's nothing she loves more than to be read to. Her favorite book? Fox in Socks by Dr. Suess. If you can get through that book without tripping over your words, you're a better elocutionist than I. (Although I've gotten pretty close.)
Anyways, looking at today's strip it was hard not to think of that book and it's blue goo. Star Maiden has been on quite the journey between this and her origin. Today, her flashback concludes. Hope you've enjoyed the ride. Read the whole thing from the beginning starting right here.
A few people got a chance to see this one early and it's already generating some debate. Curious to see what you guys make of this one.
HEY, DID YOU KNOW THE SUPERFOGEYS IS IN PRINT?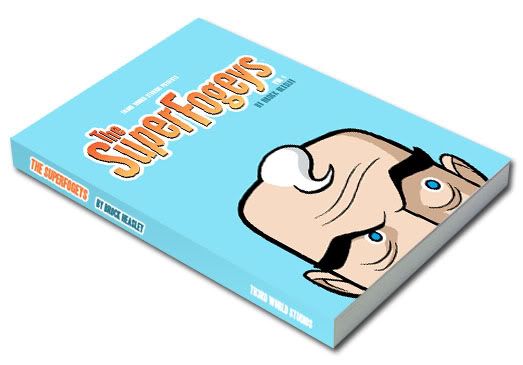 We're currently in the midst of reassessing the print strategy for the SuperFogeys, but one thing I haven't mentioned in a while is the first volume of the SuperFogeys which contains the first five chapters, Untold Tales (the precursor to SuperFogeys Origins and only available in print), a foreword by Rich Johnston and TONS of extras (like commentaries). You could do worse things with your money. Like buy gas at an Arco or invest in your cousin Kenny's "can't lose" land deal.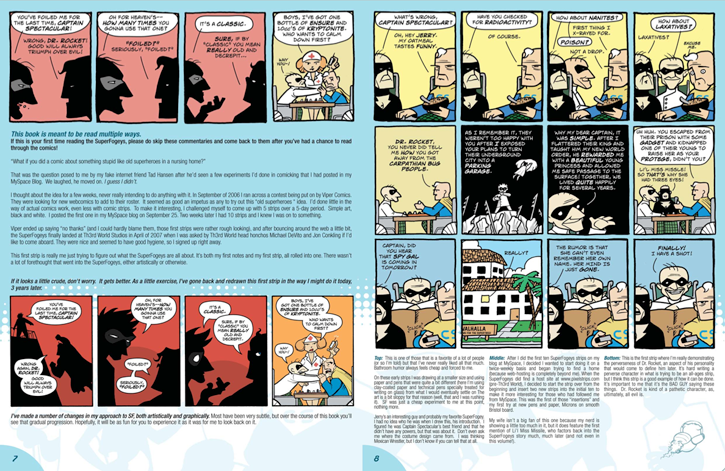 Sample spread from Volume One of the SuperFogeys (if you can't see this image, click here)
The book is available in two editions. At $24.99 the Artist Edition will get you the book plus an original sketch card featuring one of the SF characters. For $19.99 you can get the book by itself.
I appreciate your support!
NEXT WEEK:
On Tuesday, A fan favorite character returns with some bad news for Soviet Sam. But Sam has an interesting piece of news for him…
Then, on Thursday, we go back to the present day to see what Dr. Klein has to say to Star Maiden about all of this!