Posted on 12/23/09
SECOND APOLOGY
So. It's finally here, page 5 of Harvey's Origin. Very sorry for the delay, but from the looks of thing a lot of you enjoyed my illustrated apology! Thanks for your patience and kindness.
You might notice that this is in black and white. Here's the skinny: I failed to communicate to TL Collins that Harvey Page 5 was going up today, Wednesday. He thought it was going up tomorrow because of my bungling. So, all apologies everyone–my fault entirely.
TL was kind enough to do some scrambling though, and got the inks done so we can at least see how the story of Part One wraps up. The full color version will be appearing in this space soon, so bookmark it and check back later for that.
Thanks for your understanding, folks!
AND JUST SO IT'S NOT LOST TO THE SANDS OF TIME…
Since this was kind of a hit and some of you might be coming in late and wonder what everyone is talking about, here's what I originally posted as page 5 when midnight hit: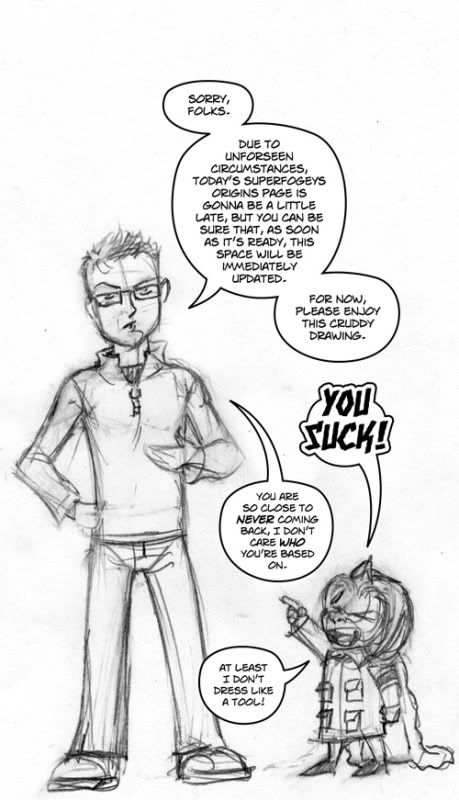 See You Tomorrow for a Very Special Christmas Eve Guest Strip!
SuperFogeys Christmas Message on Friday, Christmas Day!