TANGERINE'S ORIGIN COMES TO A CLOSE
Big, big, big thanks go out again to Eldon Cowgur for the stellar job he did on bringing this story to life.  What an amazing piece of work, right? Do yourself a favor and go back to the beginning to read it as a whole to see just what Eldon (and, to a lesser extent, me) crafted here.
After you've done that, hit this link and bookmark it.  You need your daily dose of Eldon Cowgur via Astray3.  Believe it.
I've already let Eldon know that I'd love to work with him again sometime, so hopefully we'll see him back here!
SWIFTY AND THE CAPTAIN BY DON OSKOWSKI
Last week I received this great, unsolicited piece of fan art from SuperFogeys SuperFan Don Oskowski.  (I love unsolicited fan art.)  With his permission, I post it here for you to enjoy.  Look at this great take on the young Swifty (he even used the redesigned costume!) and young Captain Spectacular.  Don's got style to spare, and you can see it in action as webcomicConduit Flux.  Give it a looksee and let Don know what you think!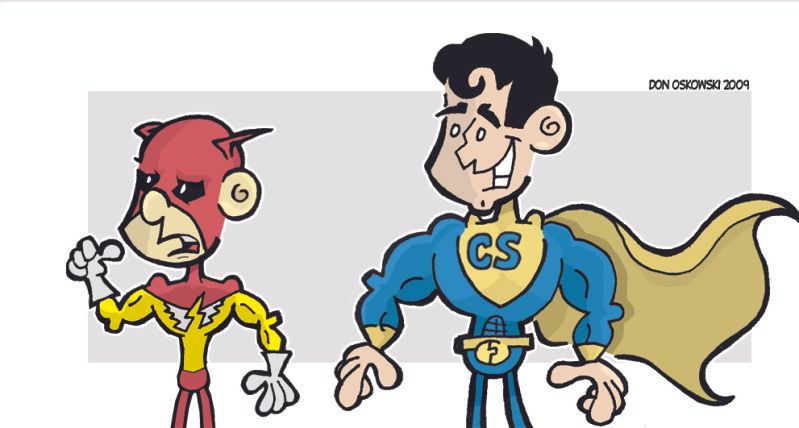 BALTIMORE COMIC CON BOUND
It's official! I will be making an appearance at the Baltimore Comic Con on October 10-11.  Flight is booked and I could not be more super excited.  This will be my first time visiting Baltimore (well, first time anywhere east of Utah).  So pumped to personally debut the SuperFogeys Vol. 1 with the rest of the Th3rd World crew. See you there!
COMING UP IN SUPERFOGEYS ORIGINS…
I have a number of Origins scripts out there to a number of exciting artists.  Some of them I've told you about (David Reddick and Steve Ogden). Others you'll be hearing about soon.
But, next week, regular SuperFogeys Origins artist T.L. Collins returns for what we're calling "Herman's Story." This will be far more than an origin story.  Instead, you'll be getting Herman's entire life story (and even a bit of the afterlife), told in his own words.  (If you've got no idea who Herman is, be sure and check out the newly updated "Characters" page.) I promise lots of great twists, a story that offers fresh perspective on events we're already familiar with, and…Scott Bakula?  You'll see.
See you on Thursday with SuperFogeys 222!
—————————–
Don't forget to order your copy of SuperFogeys Vol.1 today! Available in both Artist and Regular editions! Collects Chapters 1-5, FIVE Untold Tales of the SuperFogeys, commentaries, never-before-seen art, and much, much more. Get The SuperFogeys off the screen and into your hands where it belongs!
Also, SuperFogeys Chapter 2 now available in the iTunes App Store!