SKETCH CARDS
If you've paid any attention to the links down at the bottom of these comments week in and week out, then you know that this week SF Book 4, collecting Chapter 5, "The Redemption of Dr. Rocket" finally ships.  Been waiting on this one a long time–too long in fact.  Which is why those of you that pre-ordered will be getting some extra goodies with your purchase.
By far the most popular edition of Book 4 has been the Artist Edition. With the artist edition you get a sketch card with an original sketch drawn and signed by yours truly.  I've spent the past couple weeks taking time here and there to make sure that each sketch card is unique and one of a kind.  You know what? Instead of telling you about 'em, I'll just show you.  Here's a shot I took of the full collection before sending them all off to Th3rd World headquarters: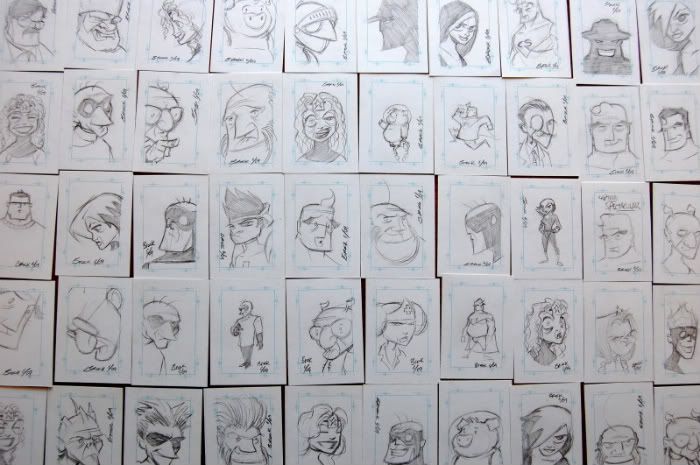 Like I said, the books are shipping out this week, but that doesn't mean you can't still your copy today!  You can go with either the regular edition, or the artist edition.  Either way, now's time!  Order you copy today and get your book pronto.
Don't forget there's a whole 'nother story in this book entitled "The Audition" drawn by one Mr. Lucas Turnbloom.  C'mon, I know you wanna know what happened when Jerry went off to the college and held auditions for a new partner!  Only one way to find out…
GONNA BE IN PHILLY THIS WEEKEND?
Don't forget that Th3rd World will be in Philadelphia this week, hosting a booth at Wizard World Convention.  There you'll be able grab all of Th3rd World's books, including the SuperFogeys.  Book 4 will be making its debut there!  Also, SuperFogeys Origins artist TL Collins will be there doing free sketches and sharing personal stories of what a big, fat jerk I am to work with.  Gonna be great!
NEXT WEEK:
Find out where the Money Man lands on Tuesday in SuperFogeys Origins. On Thursday, the O'Hara Brothers meet a surprise visitor on their way to see their dad.  (And just who is their dad, anyway?)
——————-
FREE! Download SF Ch. 1, "Insane Romance From Hell" on Your iPhone/iTouch Here (AVAILABLE NOW)
Order your copy of SuperFogey Collection #4, ARTIST Edition here! (SHIPS JUNE 18TH!)
Order your copy of SuperFogey Collection #4, REGULAR Edition here! (SHIPS JUNE 18TH!)