WHO SAYS I'M WORDY?
I can be a wordy sonuvagun, it's true. But one thing I've been working on a lot lately is trying to pare down my word counts in the comics (not here in my comments though–I'm not that merciful).  Comics are very much the interplay between words and pictures (not strictly speaking, but you know what I'm trying to say here) and writing comics basically comes down to trying to balance those two poles in an engaging way. It makes it easier when you've got an artist as great as Chris to pull the weight on the illustration side of the equation.
Let's face it, if you haven't checked out Odori Park by today's SFO artist Chris Watkins by now, there's no hope for you.
ONLY THREE DAYS LEFT TO WIN ONE OF TWO SIGNED COPIES OF SUPERFOGEYS VOL. 1!
If you don't think you can win, knock that noise off right now. I confess I haven't gotten as many entries as I thought I would for this one. There's still plenty of time to get yours in, but you have to act fast.
Full details at this link! (Scroll down a bit)
SUPERFOGEYS/SPOOKY DOOFUS CROSSOVER FAN ART!
Soon after the announcement that Marc Lapierre would be taking over the art chores on SF, I got the hilarious bit of fan art you see below which mashes up SuperFogeys with Marc's own comic strip, Spooky Doofus. Check it: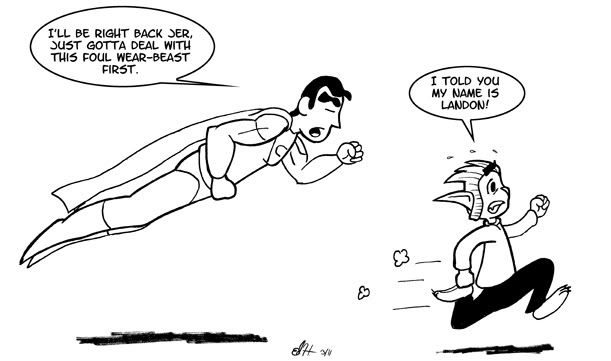 If you can't see this image, click here!
Big thanks to Ed Held of Hobo and Bowser for this inspired piece!
NEXT WEEK:
Monday – "302 – Don't Remember Any of This" Swifty and Swifty get metaphysical on us (or is it scientific?) and explore the mechanics of time travel. My head hurts already.
Wednesday – "303 – Namby-Pamby Religious Jaghole" The Tangerines are still going at it, but now the Space Pigs have something they wanna say.
Friday – Spy Gal & Friend in Operation: C.O.W. concludes the only way it could! Gravely! With sadness! These exclamation points are really inappropriate!