THE SPY GAL ORIGIN COMES TO A CLOSE
How about a big round of applause for Lee Cherolis for the great job he did on this story? From the Spy Gal Art Contest in May until now, it's been a long road for Lee to get to this point and I for one think did a superb job.
The Spy Gal origin script was one of the most demanding I've ever written, and page after page Lee rose to the challenge, culminating in today's stellar finish. The challenge, really, was living up to expectations. I'd been planting hints about Spy Gal's dark past for years, but I'd never really explained it until now. By showing it in all its gory detail like this, I run the risk of turning you against her, but hopefully you've gained a slightly greater appreciation for the character instead. It's up to you!
Lee and I would both love to hear your thoughts on what you thought of the story as a whole, so please feel free to share your opinion, good or bad, in the comments below.
THE ANNOTATED SPY GAL ORIGIN, PG. 11
Readers with long memories will find this last page of Spy Gal's origin a tad familiar. For the full scene of the last panel, you'll need to go all the way back to the first page of the Society of Heroes origin–which appeared on this site almost 2 years ago!
NEW DONATION WALLPAPER!
Please remember that every week a new desktop wallpaper is available to those who make a donation to SuperFogeys of any amount. If you're enjoying SF week-in and week-out, please consider lending your support–you'll get something awesome in return!
This week's wallpaper comes from the big deal SuperFogeys strip #200, wherein we saw for the first time the real Dr. Rocket! Here's a little look at what your donation will get you: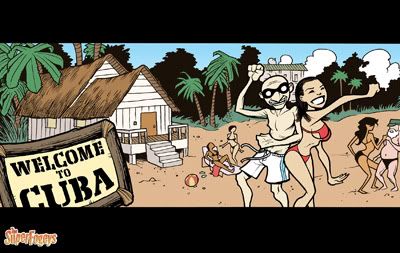 Click here if you can't see the above image!
GUEST STRIPPIN' XMAS RETURNS!
As with the previous two Christmas Holidays, I'm gonna be taking a short vacation from the SuperFogeys and you're invited to help out! Be back here on Thursday for the full announcement and details about how you can submit your SuperFogeys guest strip for the SF Guest Strippin' Xmas.
AND THE NEXT SUPERFOGEYS IS…
THE DEATH OF MR. CROOK! This 3-pager will detail the final minutes (!) of the life of Mr. Crook, erstwhile partner of Dr. Rocket and one of the original Valhalla residents–who had the misfortune of dying just before the start of SuperFogeys Chapter 1!
Guest-starring Gene and Jerry, this unconventional tale of sadness, death, woe and unintentional hilarity will be written and colored by me, and drawn by Michael Odom of the new, very fun webcomic, Holiday Wars.
See you on Thursday with SuperFogeys 284!